The Top 5 Data Trends Driving Competitive Advantage Today… — and Tomorrow
The latest market research from Cloudflight, a leading analyst firm based in Europe, identified 12 major technology trends for the current year. The trends found a radical shift in cloud adoption and an acceleration toward digital as people, society, the economy, and the environment all responded to the coronavirus pandemic.
During a recent webinar, Dr. Stefan Ried (Cloudflight) and Mat Keep (MongoDB) shared key industry insights and explored in detail five of the most prevalent trends. The session found that, as the need for technological innovation grows, a company's competitive advantage is increasingly tied to how well it can build software around its most important asset: data.
In this post, Dr. Stefan Ried breaks down those five key trends and analyzes how businesses can drive data innovation to stay ahead of the field. Mat Keep then offers practical next steps to get started as data is increasingly managed in the cloud.
Trend 1
Data becomes
 

the

 

differentiator — even beyond software

Initially, many startups disrupted the incumbents in their industries with innovation based on software. All the while, non-digital-native enterprises caught up. Now data has become more important than software algorithms.

Here's an example: Imagine a traditional automotive company. The business could purchase components and software from a supplier to implement autonomous driving in its cars, but without enough learning data out of every region its cars wouldn't drive reliably. In this case — and many more — the automotive firm cannot just buy a software competitive advantage off the shelf. Instead, it must build that advantage — and build it using data. It's why data is quickly becoming the differentiator in all industries and why delivering a modern customer experience is increasingly reliant on this underlying infrastructure.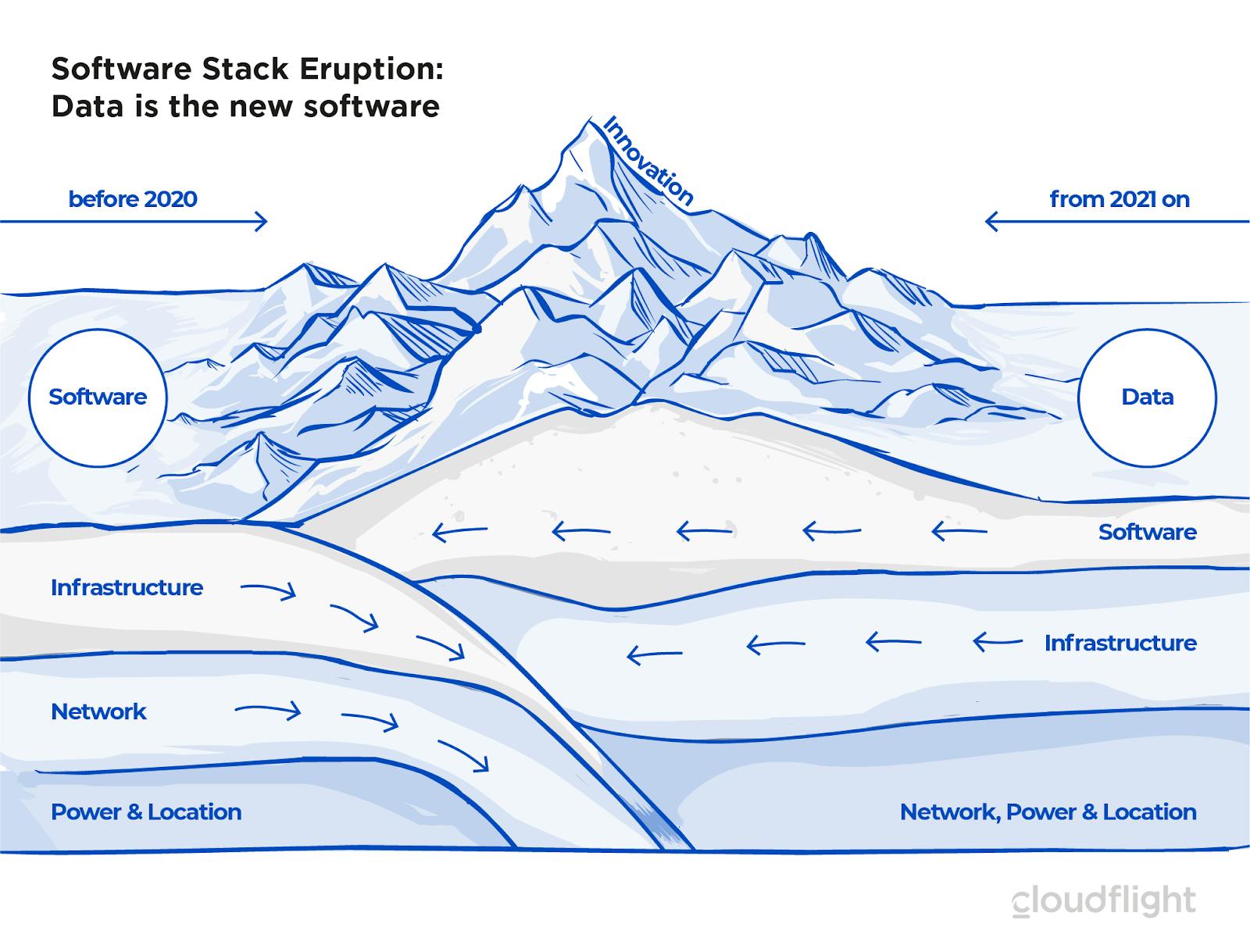 The above image illustrates just how the tech stack is evolving. Data quality is quickly becoming the outstanding differentiator compared to software algorithms. That's why we consider the access, ownership, and quality of data to be the mountain of innovation in this decade and moving forward.
Trend 2
Europe embraces various cloud scenarios
Cloud adoption in Europe has always been behind that of the United States. One reason is obvious data sovereignty and compliance concerns. It would be an intriguing thought experiment to reflect on how the U.S. public cloud adoption would have developed over the past 10 years if the only strong and innovative providers were European or even Chinese companies.
Europe, however, is now at an important inflection point.
Global hyperscalers finally addressed these national privacy issues. Platform service providers, including MongoDB with MongoDB Atlas, have significantly increased support for these privacy requirements with technical features such as client-side-encryption and operational SLAs. This achievement enables enterprises and even public government agencies across Europe to embrace all three basic types of cloud scenarios.
Lift and shift, moving existing legacy workloads without any change to new IaaS landscapes in the cloud.
Modernization

 

and decomposing existing application stacks into cloud-native services such as a DBaaS. Modernized workloads could leverage the public cloud PaaS stacks much better than monolithic legacy stacks.
The new development of cloud-native applications

 

and building modern applications with less code and more orchestration of many PaaS services.
Trend 3
Hybrid-cloud is the dominant cloud choice and multicloud will come next
Nearly 50 percent of participants in our recent webinar said hybrid-cloud is their current major deployment model. These organizations use different public and private clouds for different workloads.
Just 20 percent of the attendees still restrict activities to a single cloud provider. Another equally sized group claimed the exact opposite approach to multicloud environments,where a single workload may use a mixture of cloud sources or may be developed on different providers to reach multiple regions. See below.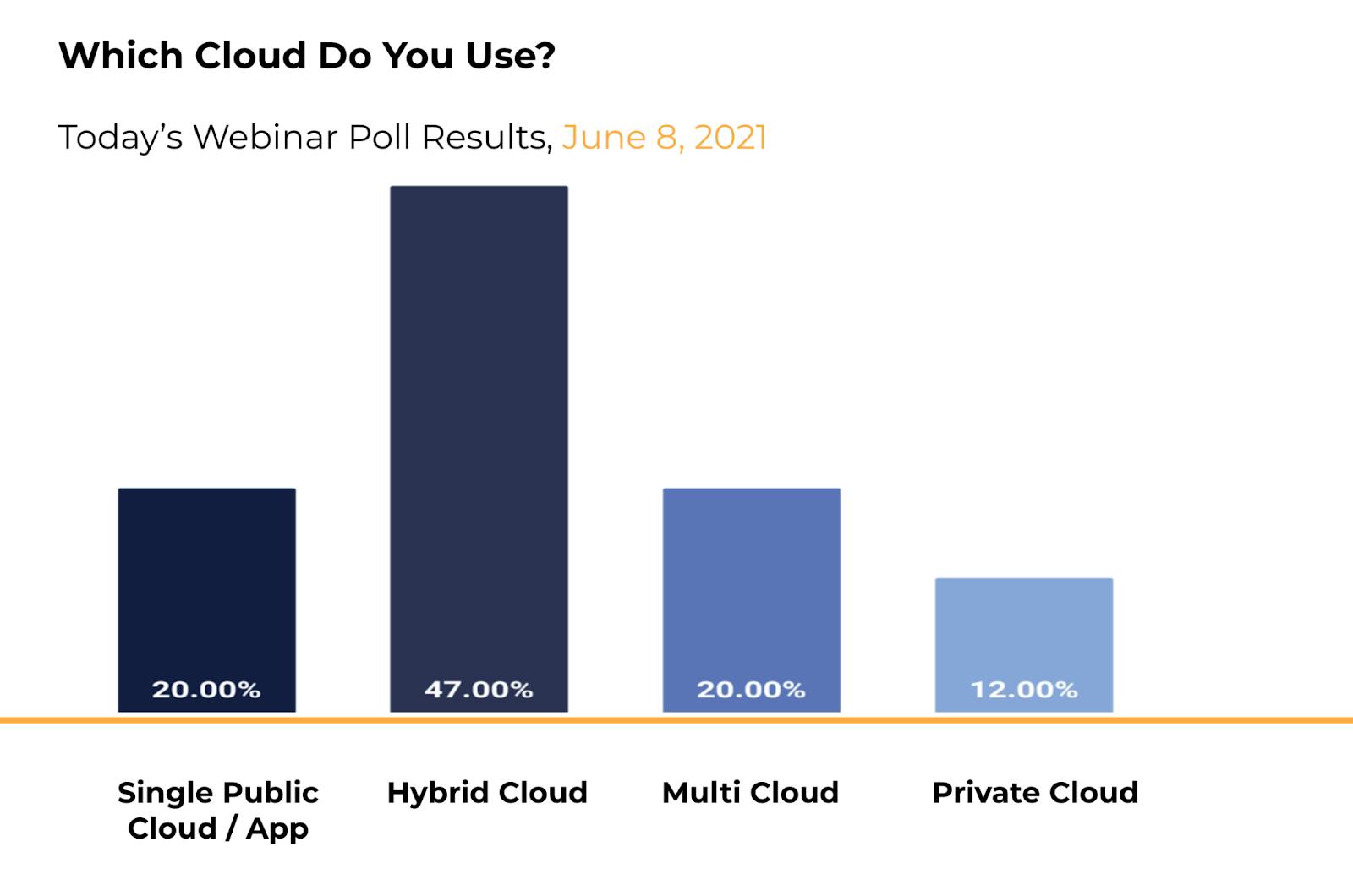 The increasing adoption of these real multicloud scenarios is yet another major trend we will see for many years. Less experienced customers may be afraid of the complexity of using multiple cloud providers, but independent vendors offer the management of a full-service domain across multiple providers. MongoDB Atlas offers this platform across AWS, Azure, and GCP, and paves the road for real multicloud adoption and innovation.
Trend 4
Cloud-native is taking off with innovative enterprises
In many client engagements, Cloudflight sees a strong correlation between new business models driven by digital products and cloud-native architectures.
Real innovation happens when differentiated business logic meets the orchestration of a PaaS offering. That's why car OEMs do not employ packaged asset-life-cycle-management systems but instead develop their own digital twins for the emerging fleet of millions of digitized vehicles. These PaaS architectures follow an API-first and service-oriented paradigm leveraging a lot of open-source software.
Most of this open-source software is commercially managed by hyperscalers and their partner vendors to make it accessible and highly available without deep knowledge of the service itself. The approach provides very fast productive operations of new digital products. If compliance requires it, however, customers may operate the same open-source services on their own again.
Once your product becomes extremely successful and you're dealing with data volume far beyond one petabyte, you may also reconsider self-operations for cost reasons. This is because there is no operational lock-in for a specific service provider and you may become an "operations pro" on your own.
Trend 5
Digital twins become cloud drivers in many industries
Many people still connect the term "cloud computing" to virtualized compute-and-storage services. Yet cloud computing is far more.
PaaS levels became increasingly attractive with prepackaged cloud-native services. It has been on the market for many years, but the perception and adoption — especially in Europe — is still behind its potential.
Based on today's PaaS services, cloud providers and their partners are already extending their offers to higher levels. The space of digital twins along with AI are clear opportunities here.
There are offerings for each of the three major areas of digital twins: In modern automated manufacturing (industry 4.0), production twins are created when a product is ordered and they make production-relevant information (such as individual configurations) available to all manufacturing steps along the supply chain. Once the final product is delivered, the requirements for interactions and data models change significantly for these post-production-life-cycle twins.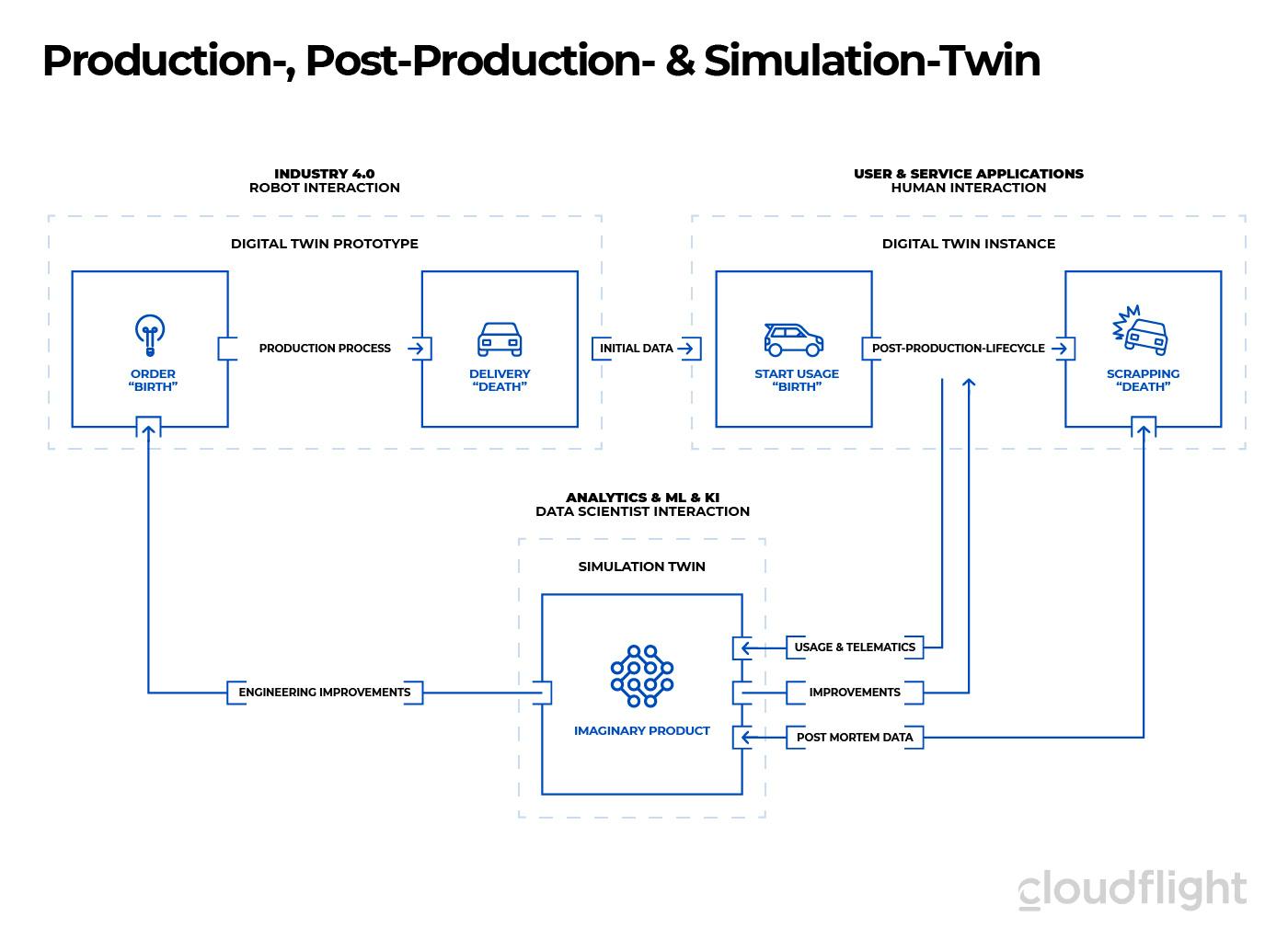 Finally, simulation twins are a smart approach to test machine learning applications. Take, for example, the autonomous driving challenge: Instead of testing the ongoing iterations of driving "knowledge" on a physical vehicle, running virtual simulation twins is much preferred and safer than experiments in real traffic situations. Beyond manufacturing and automotive, there are many verticals in which digital twins make sense. Health care is a clear and obvious example in which real-life experiments may not always be the best approach. Success here depends mostly on the cooperation between technology vendors and the industry-specific digital twin ecosystems.
In Summary
Each of the five trends discussed center on or closely relate to cloud-native data management. A traditional database may be able to run for specific purposes on cloud infrastructure, but only a modern cloud-native application data platform is able to serve both the migration of legacy applications and the development of multiple new cloud-native applications.
Next Steps
Where and how can companies get started on a path to using data as a driver of competitive advantage? Mat Keep, Senior Director of Products at MongoDB, takes us through how to best embrace this journey.
As companies move to embrace the cloud, they face an important choice. Do they:
Lift and shift:

 

move existing applications to run in the cloud on the same architecture and technologies used on premises.
Transform (modernize):

 

rearchitect applications to take advantage of new cloud-native capabilities such as elasticity, redundancy, global distribution, and managed services.
Lift and shift is often seen as an easier and more predictable path since it reuses a lot of the technology you use on premises — albeit now running in the cloud — presenting both the lowest business risk and least internal cultural and organizational resistance. It can be the right path in some circumstances, but we need to define what those circumstances are.
For your most critical applications, lift and shift rarely helps you move the business forward. You will be unable to fully exploit new cloud-native capabilities that enable your business to build, test, and adapt faster.
The reality we all face is that every application is different, so there is no simple or single "right" answer to choosing lift and shift versus transformation. In some cases, lift and shift can be the right first step, helping your teams gain familiarity with operating in the cloud before embarking on a fuller transformation as they see everything the cloud has to offer. This can also be a risk, however, if your teams believe they are done with the cloud journey and don't then progress beyond that first step.
To help business and technology leaders make the right decisions as they embrace the cloud, we have created an Executive Perspective for Lift and Shift Versus Transformation. The perspective presents best practices that can help prioritize your efforts and mobilize your teams. By working with more than 25,000 customers, including more than 50 percent of the Fortune 100, the paper shares the evaluation frameworks we have built that can be used to navigate the right path for your business, along with the cultural transformations your teams need to make along the way.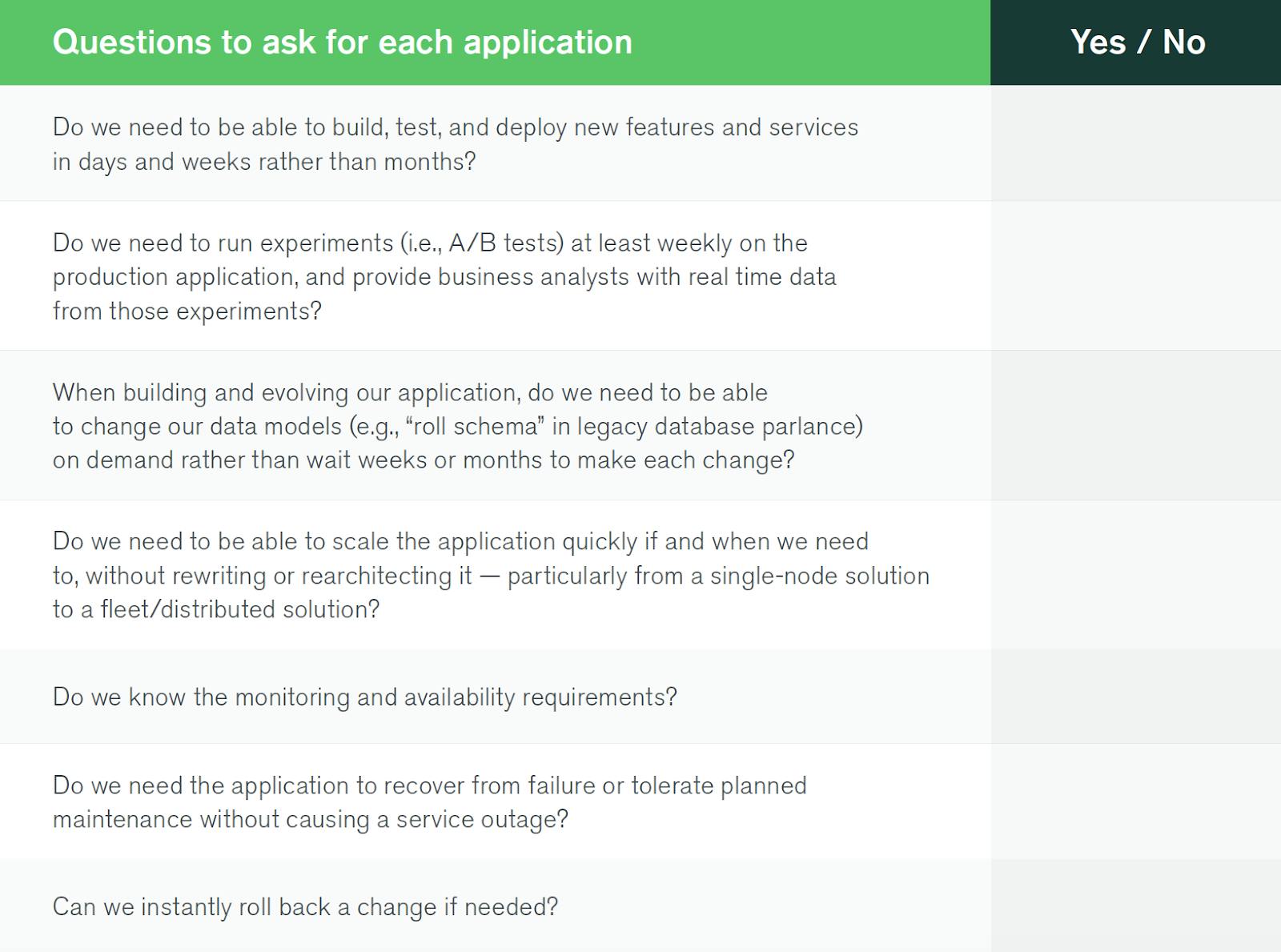 Toyota Material Handling in Northern Europe has recently undergone its own cloud journey. As the team evolved its offerings for industry 4.0, it worked with MongoDB as part of its transformation. Moving from monolithic applications and aging relational databases running on premises to microservices deployed on a multicloud platform, the company completed its migration in just four months. It reduced costs by more than 60 percent while delivering an agile, resilient platform to power its smart factory business growth.
To learn more about cloud trends and the role of data in your cloud journey, tune in to the on-demand webinar replay.
You can view more MongoDB content here